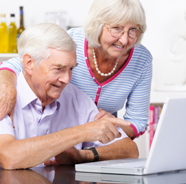 Proven long track record of helping people with technology
Established in 2001, Highway is a community-based organisation, providing learning and support for all abilities, from complete beginners to more experienced users.
Whether you have a desktop computer, laptop, iPad, other tablet computer or smartphone a member of our team can help with our plain English approach to helping people with the ever-changing world of technology.
Download our free Plain English Guide to Technology and experience our jargon-free approach.
The choice is yours: web surfing and searching, e-mailing, chatting to family and friends, accessing news and entertainment, word processing, spreadsheets, Facebook and Twitter, eBay, catch up TV, online shopping, sharing photographs...
You choose which aspects of technology will be useful to you when you join the many thousands of people who have benefitted from Highway's services and support.
Call us today on 01227 637262.
or email us on support@hilas.org.uk