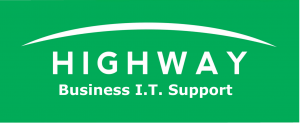 Highway Business Services
Since 2001 Highway has helped small businesses and charities with their IT, providing sound advice on all aspects of ensuring that appropriate hardware, software and support is in place.
There are many good IT support companies that provide services to businesses with a dozen or more computers. However, the cost for smaller businesses is often too high, as these companies often require a minimum number of computers for the contract.
There are many small one-man-band local computer 'shops' that provide services and support for individuals in their local area, many of which come and go and don't have the ability to support business-critical IT processes.
Highway Business IT Support sits squarely between the smaller 'shops' and the 24/7/365 larger IT support companies.
Smaller businesses and other organisations such as local charities often need the assurance of reliable, trustworthy support and advice, without the significant commitment of a high monthly fee. They also need peace of mind on security issues and the reassurance that if anything goes wrong, their important data is backed up.
Included in our support package are two essential services.
All computers must have anti-virus and other security software to protect against online threats and most businesses pay annually. However, Highway's CloudCare Security and Monitoring is a total security package included in the monthly subscription to Highway Business IT Support. Not only does it give you anti-virus and firewall, it includes a host of other security measures to keep your computers safe. In addition to this, Highway monitors updates, upgrades and scans for your computers as part of our support package. CLICK HERE
The second key feature included in Highway Business IT Support is a cloud-based back up system. Highway Backup ensures that all important files are securely backed up to a military-grade storage facility in the UK. CLICK HERE
For just £12 per computer per month, Highway Business IT Support includes:
CloudCare Security and Monitoring
Highway Backup
Telephone support
Email support
Remote support
Reduced call-out rates, workshop repairs and other services
Most importantly, reliable, professional advice across all your IT requirements
Call or email us today to discuss your requirements. 01227 637262
NEW Highway Business Services website to be launched soon...